Major: Kinesiology - Sports Medicine concentration
Minor: Biochemistry and Cell Biology
Research Advisor: Krithika Lingappan, Baylor College of Medicine, Texas Children's Hospital
"Last year alone, Rice EMS responded to 650 calls ranging from lacerations, burns, mental health crises, and allergic reactions to head injuries, chest pains, strokes, and seizures," said pre-medical Kinesiology major and Rice EMS Captain Sam Reddick. Through Rice Emergency Medical Services (EMS), undergraduate students with EMT training serve as first responders for a variety of health emergencies on campus.
Students complete their EMT training in basic and advanced EMT courses offered through the Rice Kinesiology Department. "Through these classes, I was able to pursue national certification as an Advanced EMT," said Reddick. "These classes gave me one of my first opportunities to bring classroom knowledge out into the real world and actually help people. From riding out with local ambulance services to spending time learning in one of the nearby Level 1 trauma centers, I gained invaluable clinical experience that solidified my passion for medicine."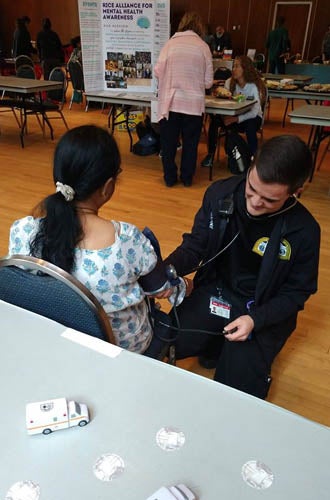 "These courses also included training in crisis management of public health emergencies, skills that have been particularly helpful during the current COVID-19 pandemic," Reddick said. While the university has required most undergraduate students to move out of dorms to mitigate the spread of COVID-19, the Rice EMS student leadership team was granted permission to stay on campus and continue providing emergency services to the remaining students and faculty. Additionally, with the schools, offices, and places of worship that often organize blood drives closed down, the blood supply is rapidly diminishing. "The Rice EMS leadership team recently hosted a blood drive which brought in over 80 donors to help contribute to Houston's critically low blood supply," said Reddick.
Reddick has long felt a deep motivation to help people overcome health challenges and the suffering that too often comes with them. "I distinctly remember when I was a child and a close family friend of ours lost her son due complications from a premature birth," he said. "At the time, I didn't understand the medical complexity of those types of cases, but I clearly saw the pain that such a loss brings families."
Now, Reddick studies lung development in premature infants with Krithika Lingappan at Baylor College of Medicine, Texas Children's Hospital. One of the leading causes of death associated with premature birth is a lung disease called bronchopulmonary dysplasia. When babies are born premature, their lungs haven't fully developed. Their alveoli, the delicate tissue sacs in the lungs through which air diffuses into the bloodstream, do not yet have the coating of surfactants that helps reduce surface tension at the alveolar surface. This makes breathing more difficult, and premature infants often need the help of ventilators or oxygen-enriched air to get enough oxygen. Unfortunately, excess pressure in the ventilators can stretch the lung tissue, while high oxygen levels can irritate the inner lining of the airways. The resulting inflammation and damage can cause bronchopulmonary dysplasia.
"We are seeking to better understand why males are at a significantly higher risk of developing bronchopulmonary dysplasia," Reddick explained. He studies a type of microRNA that might be responsible for sex-specific differences in the formation of alveoli and development of blood vessels in the lungs. Cells produce microRNAs to control gene expression; by base-pairing with complementary mRNA molecules, microRNAs can prevent their translation.
Reddick continued, "My involvement with Rice EMS has given me extensive, real-world experience as a first responder, and the Baylor College of Medicine Patient Discharge Initiative has shown me the necessity of holistically serving individuals, not just treating their current medical need. Both activities have helped me better understand and apply classroom knowledge while serving my community."