Majors: Ecology and Evolutionary Biology and Visual and Dramatic Arts
Research Advisors: Scott Solomon and Tom Miller
For junior ecology & evolutionary biology and visual & dramatic arts double major Kyle Dickens, the relationships he has formed with faculty are one of the best things about being at Rice. "The professors in both the EBIO and VADA departments give you boundless opportunities to propel yourself and explore what you really want to work on with great support. They engage with their students and want you to succeed both inside and outside of their field," he said.
From his favorite course (Coral Reef Ecosystems taught by Adrienne Correa) to memorable experiences and supportive professors, for Kyle it all comes back to the personal relationships he has developed with Biosciences faculty in the classroom and outside of it.
"The Coral Reef Ecosystems course inspired me to rise to the challenge of the coursework and forced me to thoroughly understand the material in order to succeed. It was incredibly rewarding, and Dr. Correa is a great professor! Additionally, Scott Solomon and Tom Miller are two people that have made a huge positive impact on my life and inspired me to complete a BS in ecology and evolutionary biology," said Kyle.
Kyle conducted independent research with Professor Solomon and also took two courses with him: introductory biology and introductory lab in ecology and evolution. "These were partly my favorites due to the instruction," he said. "Professor Solomon has supported me in pursuing a career in every way possible and has really gotten to know me."
He also joined Professor Miller for a research experience for undergraduates (or REU) this past summer to complete field research, which included a trip to the Sevilleta National Wildlife Preserve in New Mexico. There, they hiked through mountain ranges to collect data on mutualisms—ecological interactions between two species where each species sees a benefit. Specifically, they were studying the relationship between ants and cacti and how it might be impacted by climate change.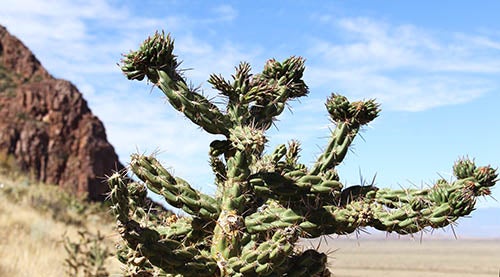 "Cholla are an indigenous cactus to Sevilleta that offer floral nectary rewards to ants in exchange for protection from insect herbivores," Kyle explained. "Mutualisms are essential to proper ecosystem functioning. With climate change actively perturbing ecosystems, it is essential to understand how these symbioses will be altered to preemptively prepare for community stresses and implement conservation strategies…. This has been one of the best experiences of my time at Rice!" he said.
Outside of the classroom, Kyle plays on Rice's club lacrosse team; enjoys painting, photography and exploring the art scene on-campus and in Houston; participates in student government; lifts weights and cooks. "Cooking is one of my favorite activities! My residential college is Martel, so I've had access to the new state-of-the-art kitchen," he said. "I'm a vegetarian, so it has been great building a repertoire of delicious healthy recipes that I can carry with me for the rest of my life and introduce to people who mistakenly assume that most vegan/vegetarian cooking is unappetizing."
As he heads into his senior year, Kyle is happy to be completing majors in the areas that he is most passionate about and to have met supportive faculty along the way. "I have taken classes in many departments at Rice that have professors who make personal connections with their students, but this is particularly true about the Ecology and Evolutionary Biology faculty," he said. "They are truly a stunning array of faculty that have made my Rice experience intellectually engaging and their department feel like a second home."