Majors: Earth Science and Visual and Dramatic Arts
Research Advisor: Caroline Massielo
While the arts and sciences may constitute different fields of study, they often blend together in our personal experiences. This is the case for Jackie Richards, a graduating senior with a double major in Earth Science and Visual and Dramatic Arts.
"When reflecting on my own journey throughout life, it has clearly been influenced by my changing environment and how I interact with the world around me — both natural and built. I was always interested in plants, animals, rocks, water, forestry, you name it — if it had to deal with the outdoors, I was into it. My family lived directly next to a wildlife management area, which put me over twenty miles away from my school, friends, and even the nearest grocery store. Because of this, even when I was young, I was grappling with intense feelings of isolation and often used nature as an outlet," Jackie said.
"As someone who's always had muddled thoughts about my experience as a human, I have used art to help bring clarity. Since nature shows us that everything is interconnected, deciphering our environment through art can provide a more holistic view on life."
At Rice, Jackie took a course called "Visualizing Nature" (ESCI 380/FOTO 390). If you enjoy photography, nature, and travel, this class is a must-take. While carrying digital and film-based cameras, students take extensive field trips to study the natural and urban landscapes and related ecosystems in Houston. By synthesizing nature and urbanism in Houston through photography, Jackie was challenged to think about space in new ways. How might a space be designed to be people-centered or environmentally-centered? How does either impact the world? Investigating questions like these, Jackie was both overwhelmed and inspired. "I was finally getting close to something that bridged my passion for human connectedness with my love of nature. So, I decided to major in both earth science and visual art after this course," said Jackie.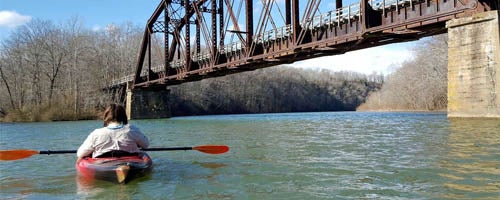 Artistic conceptions of our planet's future have given rise to many creative works, including movies and TV shows in the genres of science and post-apocalyptic fiction. One unfortunate consequence is that some earthly disasters may seem especially far away. Using the evidence she has gathered from her climate-related research, Jackie is amplifying the message that the ice caps are melting and showing people that "climate change isn't some futuristic far off hellscape — it is happening right here right now."
We generally accept that polar ice sheets are melting more than normal in response to Earth's shifting climate. But exactly how fast are they melting and changing, and how does this compare to what happened to them before humans started monitoring?
The answers to these questions can be found in the ice itself, which freezes and preserves its own history. Jackie has worked in Dr. Caroline Masiello's lab quantifying the organic composition of ice samples from the Ross Sea, a deep bay on the coast of Antarctica. This will allow us to "better understand the relationship between climatic/oceanic change and ice sheet evolution over the past 23 million years," she explained.
Jackie focused on the amounts of the vital plant nutrients nitrogen and carbon in the organic molecules of her sample. "C/N ratios vary among plants, so they can be used to identify whether molecules found in samples come from land-based or algal plants. Therefore, I'll measure ratios of C to N to tell me the sources of sedimentary organic matter, which can lead to information about the ecology, climate, and ocean circulation at different points in Earth's history."
Because global climate change emerges from many complex processes, climate researchers like Jackie must become intimately aware of many related fields. The post-doctoral researcher that Jackie works under has been especially helpful in this way. "She is great at explaining things and super patient with us," Jackie said. "It's really cool just to feel like you're discovering something that no one else really has before, and sometimes the small boring tasks are cathartic."
"I care a lot about the environment, and I think it's important for us to know how climate change will affect us," said Jackie. Through research like Jackie's, past changes can predict emerging trends, and Earth's history can prepare us for its future.
One of the classes that had the most impact on Jackie was Organic Geochemistry (ESCI 425) with Dr. Masiello. Because students in the class read contemporary peer-reviewed literature from the field of organic chemistry and global biogeochemical cycles, Jackie became excited about the actual research that goes on in the world. "That experience was really special," said Jackie, "because I got to see the ways concepts are applied in research and in the real world, as well as meet one of my absolute favorite professors!"
In Jackie's opinion, "Dr. Masiello is one of the greatest gems this school has to offer (rock pun intended)." It comes through in the care Dr. Masiello puts into each interaction with students and her willingness to help and support each student, no matter their background. "Not to mention," Jackie added, "she is a completely amazing power woman when it comes to the earth science world. That woman stays booked and busy and is such an expert within her field. It's inspiring!"
These positive interactions with Dr. Masiello are characteristic of the entire community in the Department of Earth, Environmental and Planetary Sciences, Jackie said. Because it offers one of the smallest majors on campus (around 16 undergraduate students), the department fosters a sense of importance in every student in the major. "I value the autonomy and respect that we are often given by the faculty in our department," Jackie said. "They care about us and our opinions and are willing to hear us out when we have ideas or complaints." To see what undergraduate students in the department get up to, you can visit their Instagram (@esci.rice).
Outside of the lab and the classroom, Jackie participates in the Rice student-run radio KTRU, student government at Martel College, the Rice Undergraduate Geosciences Society, the campus bike shop 'Rice Bikes,' and the late night student-run fast food restaurant. Jackie is very involved in extracurriculars because she thinks they are part of what makes school worth it. They provide students with friendships, skills, and connections, which are often "more important than anything you could learn in a classroom." "Plus," Jackie adds, "I love having something to do besides homework all of the time!"
While Jackie has accepted a job offer from Amazon (non-tech) to work in Dallas, she has really appreciated all of the art, music, and culture that Houston has to offer. Jackie especially recommends the Hip-hop archives at the University of Houston, the Contemporary Arts Museum, and the Houston Arboretum.