Major: Kinesiology - Sports Medicine concentration
If there is one common thread in Erin Mikeska's various undergraduate experiences at Rice, it's holistic self-improvement. Here, "we all push each other to be better versions of ourselves, academically, altruistically, and even athletically," she said. This process of self-improvement is made possible by the dynamic student-professor interactions —"where students are challenged to learn in new ways and not allowed to slack off "— and an "innate sense of competition" within the Rice community.
Erin is a graduating senior majoring in Kinesiology with a concentration in Sports Medicine, and aims to be a medical doctor in the future. Currently, she is applying to medical schools while taking a gap year. During this time, Erin will be finishing up two science pre-requisites and getting a job in the medical field to gain experience prior to medical school.
The course that led Erin to major in Kinesiology was Human Anatomy (KINE 300). "In my sophomore year I took Human Anatomy and I loved the class. I wanted to study for it all the time, and the material just made sense to me. After that class, I knew I wanted to major in Kinesiology," said Erin.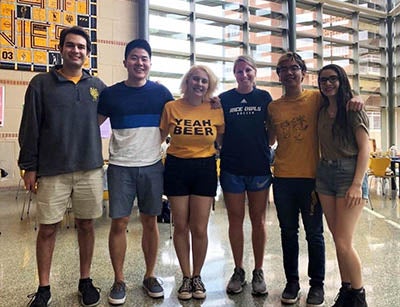 One of Erin's favorite aspects of being a Kinesiology major is the professors. In the open environment of classes taught by Dr. Laura Kabiri, Dr. Augusto Rodriguez, and Dr. Amanda Perkins-Ball, Erin and her classmates were encouraged to collaborate and ask questions. "While we were challenged to learn in new ways, our professors made sure that we were set up to succeed, even in the difficult and dense courses like human physiology," she said. In the relatively small department, professors often had recurring students in their classes over multiple semesters. In Erin's experience, the professors "enjoy teaching and getting to know their students, and truly care about the students' development."
In addition to being a natural sciences major, Erin was also a member of the Rice Women's Soccer team. With the team, Erin won a championship, got an at-large NCAA bid, and traveled to Spain. And she also found time to play intramural co-ed softball. From her experience as a student athlete, Erin learned to efficiently manage her time and grow as a person, teammate, and student.
In her free time, Erin has taken advantage of the different parks and events that Houston has to offer — going to sports games, the Houston Rodeo, picnicking in Hermann Park, running on one of the many parks or trails, and going to Galveston on the weekends. Another perk of living in Houston is that "no matter what month it is, there are always a few days warm enough to sit by the pool and tan."
One reason why Erin chose to attend Rice is the amount of opportunities offered here — even compared to other elite universities, Rice has an "insane amount of resources and connections." On a daily basis, the supportive social environment reminds Erin "how much our professors care for us, how unique our college culture is, and how united life at Rice is."