Major: Kinesiology - Sports Medicine concentration
Minor: Biochemistry and Cell Biology
Research Advisor: Bradley Lambert, Houston Methodist Hospital
Carter Taft, a senior Kinesiology major with a concentration in Sports Medicine, came to Rice planning to complete the pre-med course requirements, but unsure which major he would choose. After taking the Sports Nutrition course with Professor Roberta Anding in the Kinesiology department his sophomore year, he knew he had found the right major. "Physical fitness and athletics have always been a significant part of my life, which made sports medicine a field of interest for me. I also liked that the courses in the major cover a range of natural sciences and human function principles that are applicable to all careers in the health professions," Carter said.
Other standout moments from his time as a Kinesiology major at Rice also highlight connections he made with faculty in the department. "I have particularly enjoyed my time this semester in the Exercise Physiology course with Dr. Brian Gibson," said Carter. "I wish I had taken this class earlier in my undergraduate time. Dr. Gibson is a passionate lecturer with years of experience and expertise in the exercise physiology field. His insight along with an excellent course textbook have provided a foundation for me to learn and appreciate concepts bringing together human physiology principles with their application to health and exercise."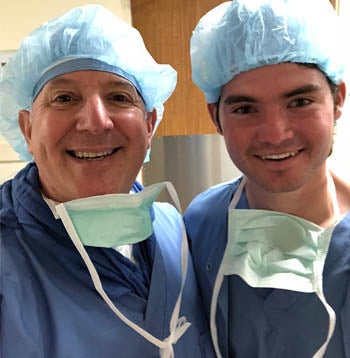 Carter also cited Dr. Augusto Rodrigez as "an incredible resource" and a professor who "engages with the class on a personal level and encourages students to feel comfortable asking questions and contributing to the learning progress."
The Kinesiology major also helped Carter land a research position at the Orthopedic Biomechanics Research Laboratory at Houston Methodist Hospital. He has been working there since May 2019 on research projects focused on prevention and treatment of sports-related orthopedic injuries.
His most significant and current project, partially funded by Major League Baseball, is a study investigating blood flow restricted rotator cuff exercises in both the general population and Rice Baseball pitchers. If you've seen someone exercising with bands around their arms or legs, they were likely practicing blood flow restriction training. Reportedly, this is an effective method of gaining strength and muscle mass while using weights much lighter than you normally would need to see the same benefits.
As part of the team at Houston Methodist, Carter is helping answer a few questions about blood flow restriction training: Does blood flow restriction therapy increase muscle mass, strength and endurance in the rotator cuff following a strict 8-week training protocol? How can blood flow restricted training assist elite baseball pitchers? He recently reported on this work virtually at the Rice Undergraduate Research Symposium and received a Distinction in Research award from the Kinesiology department.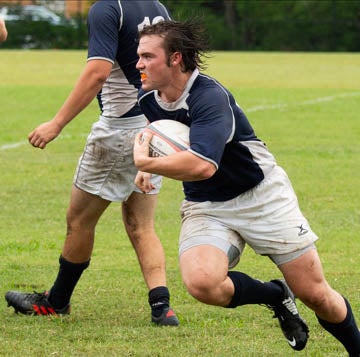 "Working with the Rice Baseball pitching staff last semester for our 8-week rotator cuff training study in their fall off-season was an incredible experience," Carter said. "Working closely with athletes, managing their training protocols, discussing performance and testing their shoulder strength and dynamics has been inspiring for me. As a kinesiology major and athlete, I am fascinated by orthopedic medicine, and I see myself pursuing this specialty as a physician. I am fortunate to have had the opportunity to work in one of the best orthopedic programs in the United States."
Outside of clinical research and shadowing, Carter also loves playing sports. Hailing from the Northeast, he is a life-long hockey player, and he connected with the small hockey community in Houston, playing in men's hockey leagues two times per week. He also plays for Rice's rugby team, enjoys exercising and spending time outdoors, and is a member of the Rice Premedical Society and the Global Medical Brigades. In response to the current COVID-19 health and economic crisis, for the past month Carter has also been working with the non-profit Feed the Front Line allocating donations to local restaurants to send meals to hospital front line workers.
Carter is currently preparing his application for the upcoming medical school admissions cycle and plans to continue working on his research projects at Houston Methodist throughout the process. "Rice is the best school to go to if you want to go into medicine, in my opinion," he said. "There is an incredible group of inspiring pre-medical students on campus and there are a plethora of research opportunities on campus and in the Texas Medical Center. The number of clinical opportunities — volunteering, shadowing and research — available in the TMC is unparalleled and the resources on campus for aspiring doctors are incredible."