Major: Kinesiology - Health Sciences concentration
Minor: Poverty, Justice and Human Capabilities
Internship: Brighter Bites
Junior Anne Rara came to Rice thinking she would major in biochemistry, a typical choice for a pre-med student. After taking a global health course her freshman year, however, she found that she wanted to understand health from a perspective that went beyond the cellular level. "I wanted to learn how the health of populations is influenced by things such as policy and the built environment and how the knowledge of those relationships and interactions can be used to reduce health disparities and promote equity," Anne said. She found that the Health Sciences concentration within the Kinesiology major allowed her to explore these interests.
"The Health Sciences major is definitely one of Rice's hidden gems," said Anne. "I cannot emphasize enough how wonderful this major is! I love how versatile the major is; courses are offered across the different schools of study, so you can take anything from Medical Sociology to Bioengineering and World Health. This enables you to tailor the major to your interests and to explore different approaches to health and well-being."
This flexibility allows Anne, who is also completing a minor in Poverty, Justice and Human Capabilities to take courses that let her examine issues of social justice and health. "Hands down my favorite course at Rice has been Human Development in Global and Local Communities," she said. "This course is actually part of the curriculum for my minor, which complements my major coursework well. In this course, you learn about deprivations and inequalities that persist throughout various areas of the world; how they are rooted in economic, historical, political and institutional systems; and how they intersect to influence what people are able to do and be."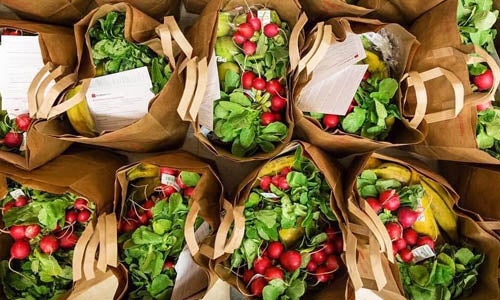 In addition to her coursework, Anne also interns with Brighter Bites, a Houston-based public health nutrition nonprofit that tackles food insecurity in disadvantaged neighborhoods. "The mission of Brighter Bites is to create communities of health through fresh food," Anne explained. "It accomplishes this by implementing a three-step program consisting of food access, food literacy and food engagement. Brighter Bites not only delivers fresh fruits and vegetables to underserved communities, but also teaches these communities how to incorporate fresh produce into their diet through nutrition education, so they are empowered to adopt healthy eating habits and lifestyles."
As an intern, Anne has been involved in many different activities, from conducting needs assessment surveys to helping out with bagging and distributing produce. One of her main projects was a recipe development project. Working alongside a culinary educator and a registered dietitian, Anne helped expand Brighter Bites's online recipe library through the creation of healthy, affordable and culturally sensitive recipes.
"The best thing about my internship has been being able to go out in the field and engage with the communities that Brighter Bites serves. It's always a joy and an honor to be able to meet families and hear them share their stories of how Brighter Bites has positively impacted them and their community. It's a reminder that the work public health professionals do does make a difference," she said.
Outside of academics, Anne enjoys finding new and fun ways to be physically active, including being a part of the Rice triathlon and rowing teams. One of her favorite events in Houston is also fitness-related. "Every last Friday of the month, there is a huge event called Critical Mass where hundreds of bikers from across Houston gather together to ride around the city and advocate for safer, more bike-friendly roads," she said. "I personally love Critical Mass because it's the one day in a month where bikers get to rule the roads!"
Anne also participates in the Catholic Student Association and the Filipino Student Association. "I enjoy being involved with the Filipino community in Houston, whether that's by going to festivals or concerts, attending art exhibits or eating at the many Filipino restaurants. It helps keep me stay connected to my Filipino heritage and be updated on current events both here and abroad," she said.
As her senior year approaches, Anne is keeping her post-graduation options open. "I'm considering going to graduate school to get a master's in public health or pursuing a fellowship with the CDC, but I'll see where the next year will lead me," she said. "Of course, medical school is something I definitely want to pursue, but I'm in no rush to get there! My main focus right now is to continue growing as a public health professional and developing the knowledge and skill set needed to address complex problems within our healthcare system so that I can apply them throughout my career as a physician. Ultimately, I would like to be a primary care physician and address health disparities within the Filipino community."