Hosted by the Office of Graduate and Postdoctoral Studies, Three Minute Thesis (3MT®) celebrates the ground-breaking research conducted by graduate students at Rice University. Developed by The University of Queensland (UQ), the competition cultivates students' academic, presentation and research communication skills. Presenting in a 3MT® competition increases their capacity to effectively explain their research in three minutes, in a language appropriate to a non-specialist audience.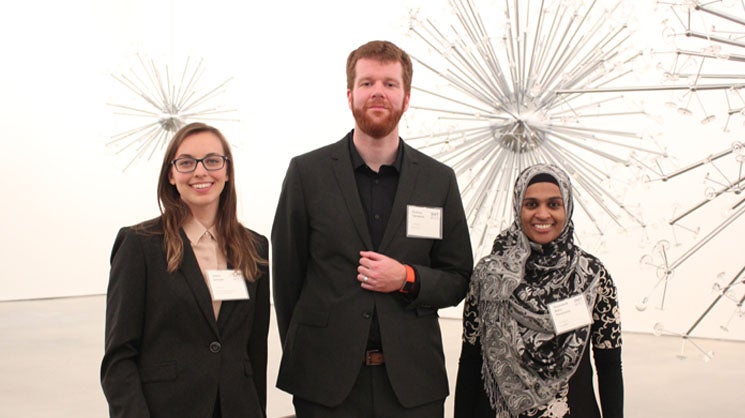 Ten graduate students participated in the finals of this year's inaugural competition, during which they had three minutes to present a compelling oration on their thesis and its significance. They were evaluated on their message and their delivery. Three of the ten finalists were from the School of Natural Sciences.
Alana Semple, an earth, environmental and planetary sciences graduate student, presented "Why Does the Ground Move?"
Biochemistry and cell biology graduate student Thomas Clements was the 3MT® runner up with his presentation titled "Innovations in Gene Editing: ExoCas9."
Chemistry graduate student Thasneem Banu Frousnoon won the GSA's audience's choice award for "New Approach to Characterizing Oxidosqualene Cyclases in Secondary Metabolism."
Congratulations to all of our Natural Sciences finalists!