BioSciences
Research Advisor: Lydia Beaudrot
Almost all species of Red Colobus monkeys are either threatened with extinction or will likely become endangered — if threats to their survival are not addressed.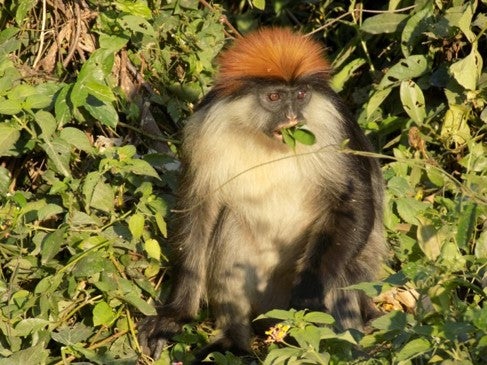 Ecology Ph.D. student Daniel Gorczynski is assessing the diversity of the mammal community in the Udzungwa mountain range of Tanzania, the only place in the world where the threatened Udzungwa Red Colobus has been found.
Gorczynski's diversity assessment will help us understand the effect of habitat degradation on mammal communities, and may also clue us in to the overall health of rainforests.
Gorczynski's goal is to understand in greater detail how wildlife is affected by habitat degradation and to ultimately find conservation solutions that allow nature and humans to coexist for the mutual benefit of all.
This photo taken by Gorczynski shows a Udzungwa Red Colobus monkey foraging for vegetation in low-lying shrubs very close to well-traveled roads and human settlements.